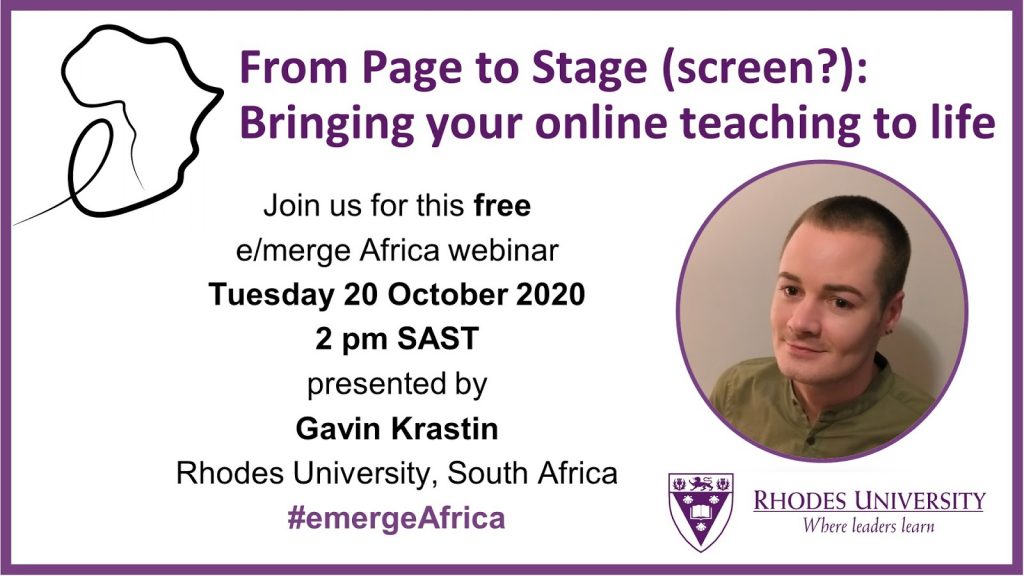 Date and Time: Tuesday 20 October 2020: 2:00pm SAST
Time converter at worldtimebuddy.com
Description: In this session we will introduce some practical strategies to enliven your online teaching. Drawing from theatre and performance studies, participants can expect some tips on how to prepare the voice, employ different rhythms, bring awareness to the eyeline/gaze and how to bring your personality across the digital divide. By the end of the session participants will have some foundational tools in physically embodying teaching and learning on screen.
Facilitated by: Gavin Krastin, lecturer at Rhodes University Drama Department
A Rhodes University alumnus, Gavin Krastin, is an award-winning artist working predominantly in live art performance, but whose practice also straddles theatre, dance, visual arts and curatorship. After lecturing at the University of Cape Town's Centre for Theatre, Dance and Performance Studies, Gavin (re)joined Rhodes University Department of Drama in 2018 on contract, but permanent from 2021, where he lectures, teaches and supervises across undergraduate and postgraduate programmes. He teaches undergraduate Vocal Practice and Acting courses, the postgraduate Performance Studies course as well as the undergraduate Theatre Studies programme. He also coordinates and teaches the postgraduate course on Dramatic Literature and the undergraduate course on Site-Based Performance. He describes his pedagogical approach as speculative, embodied and experiential.
Resources: From page to Stage (Screen) – YouTube link https://youtu.be/Z_birnQbsr8
This session has ended – please refer to the presentation resource above or an audio only on the e/merge Africa YouTube Channel (recording pending)