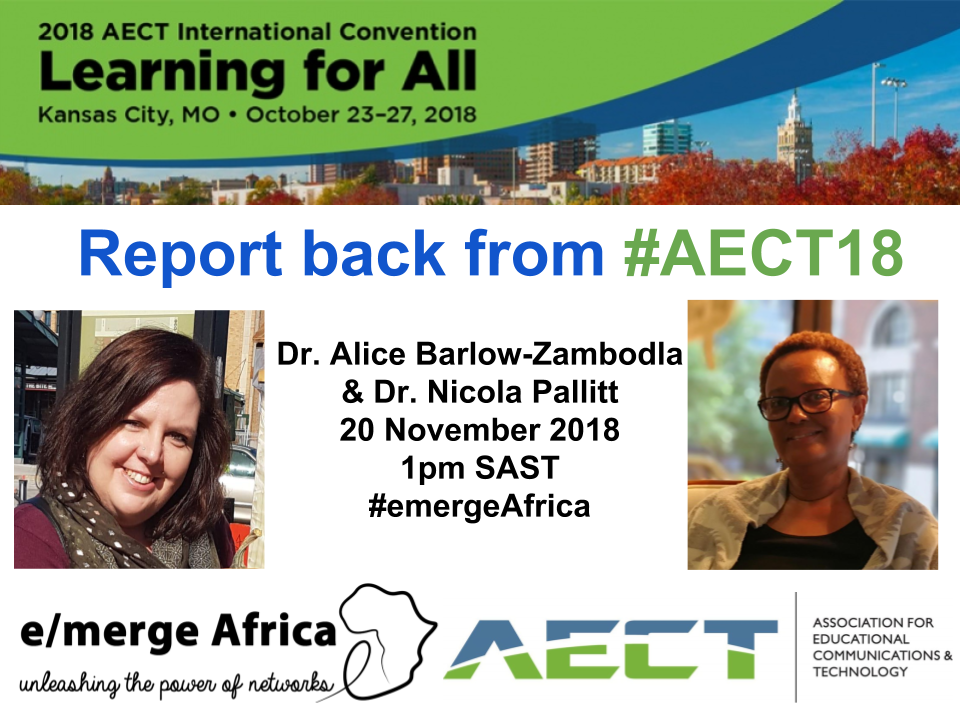 Presenters: Dr. Nicola Pallitt & Dr. Alice Barlow-Zambodla, e/merge Africa
Time and Date: Tuesday 20 November 2018, 1 pm SAST / 7 am EDT (US)
Time converter at worldtimebuddy.com
For this year the AECT (Association for Educational Communications and Technology) conference organisers have chosen the theme "Learning for All" for this year's convention in Kansas City, Missouri. In this report back session Nicola and Alice will share their reflections, learnings and experiences related to this conference. Over the past couple of years, the AECT has made a significant effort to promote scholarship, best practices, and leadership in the creation, use, and management of technologies for effective teaching and learning. In 2016 e/merge Africa became an affiliate organisation of AECT. This session will also discuss what opportunities this could give e/merge Africa members. This report back is also a virtual celebration of the collaboration between the two organisations. Join us by signing up here:
---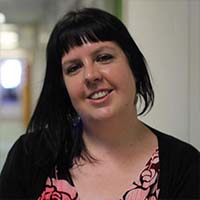 Dr. Nicola Pallitt is a lecturer in the Centre for Innovation in Learning and Teaching (CILT) at the University of Cape Town. She is part of the e/merge Africa team and co-convenes the Facilitating Online courseEducational Technology Lecturer, Centre for Innovation in Learning and Teaching (CILT), University of Cape Town
I have been involved in a variety of curriculum innovation initiatives and assist university staff with blended and online learning design. I co-teach on a postgraduate programme in educational technology and co-convene the e/merge Facilitating Online course. I received my PhD in Media Studies (2013) and Postgraduate Diploma in Higher Education Studies (2014) from the University of Cape Town. My research interests include digital games, open badges, social media and ePortfolios in Higher Education. I hope to engage fellow researcher-practitioners in research that takes critical, contextual and pedagogically informed approaches to educational technology. I am an avid sketchnoter, networked scholar and lifelong learner. When I'm not online I'm probably doing something belly dance related or hunting for Pokemon
---

Dr Alice Barlow-Zambodla e/Merge Africa Network Regional Coordinator for Southern and East Africa
I have a multi-disciplinary background in Agriculture, Botany and ICTs for education resulting in lecturing and research experience totalling more than 25 years at the Universities of Transkei and Kwa-Zulu-Natal, South Africa. My more recent experiences involve working as a Programme Specialist for 7.5 years at SAIDE, an educational research and development NGO. This work involved working with various tertiary institutions on the continent focussing mainly on open and distance learning programmes,  the development and use of open education resources, ICTs for Education and development, as well as the monitoring and evaluation of educational interventions. In my capacity as a Vodacom Change the World volunteer 2014-2016  I have been working with the Buffelshoek Trust  to set up and capacitate 11 ICT Centres situated at 9 rural schools in Bushbuckridge Municipality, Mpumalanga, South Africa.