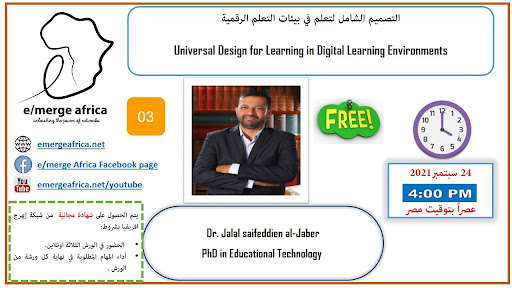 Time converter at worldtimebuddy.com
Session format: Webinar / three part mini course
Date and Time:
First session Friday 30th July 2021, 4:00pm SAST/Cairo Time – recording available here
Second session 27 August 2021 4:00pm SAST/Cairo Time – recording avalable here
Third session 24 September 2021 – Please sign up here
Course summary – third session: Pending
Course summary – second session:
Talking about the importance of having quality standards in digital learning has become associated with talking about digital learning itself. Because of the importance of quality standards in creating distinguished digital education this has become the biggest challenge to prove the effectiveness of digital learning. In this course session I will introduce quality standards for teaching digital courses, reflecting on similarities and differences of various frameworks. This will include the standards of course design formulated by the most famous international organizations that set these standards with practical application in mind.
Presenter: Dr. Jalal Saifeddien Al-Jaber, PhD in Education Technology, Jordan
Presenter Bio: Dr. Jalal Saifeddien Al-Jaber, PhD in Education Technology, Jordan
Language: Please note seminar language is Arabic