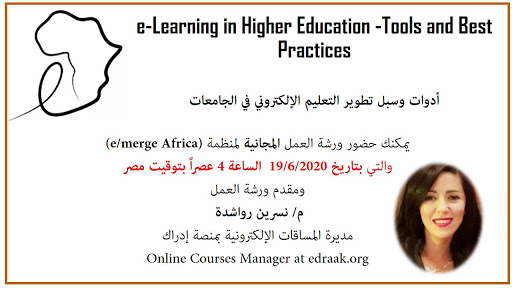 Presenter: Eng. Nisreen Rawashdeh, Online Courses Manager at Edraak
Date and Time: Friday 19 June 2020, 4:00pm SAST/Cairo Time
Time converter at worldtimebuddy.com
Description:
In this Webinar, the presenter will discuss:
The current imperative need for e-learning in higher education
The advantages and challenges of e-learning in higher education
Has the e-learning experience succeeded?
Creating online courses and digital educational material
Choosing the right online tools for delivery, communication, and evaluation
Suggestions for developing the e-learning experience
Bio: Eng. Nisreen Rawashdeh is an Online Courses Manager at Edraak
Educational Technology Enthusiast, passionate about Online Education, Instructional
Design, Project Management, and finding the perfect harmony between Education and Technology
Language:Please note seminar language is Arabic 
Facebook: https://www.facebook.com/nisreen.mousa
Please refer to the recording soon available on the e/merge Africa YouTube Channel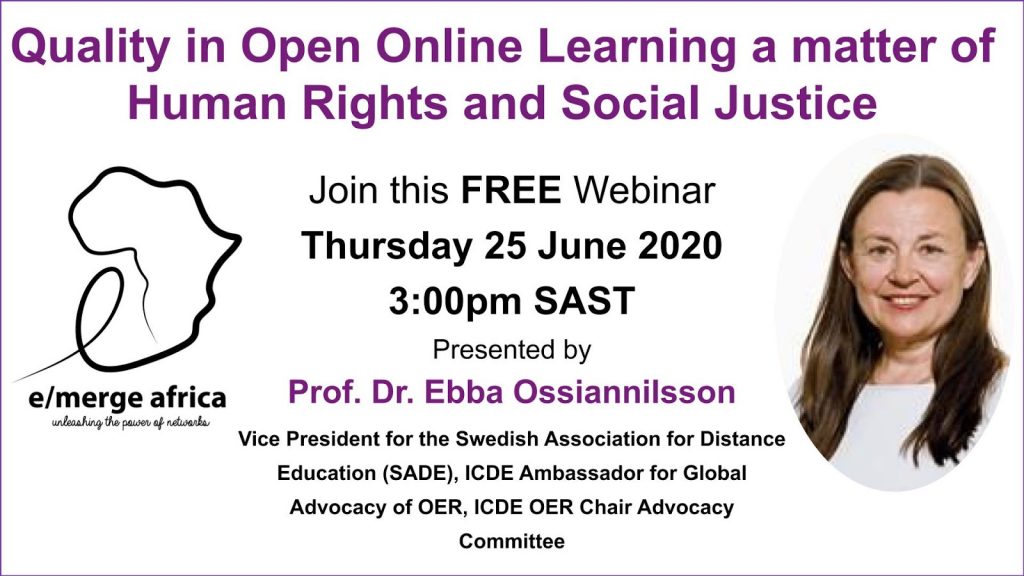 Presenter: Prof.Dr. Ebba Ossiannilsson, Vice President for the Swedish Association for Distance Education (SADE), ICDE Ambassador for global Advocacy of OER, ICDE OER Chair Advocacy Committee
Date and Time: Thursday 25 June 2020; 3:00pm SAST
Time converter at worldtimebuddy.com
Description: During this webinar on quality open online learning IS a human right and social justice will be discussed.
Once registration is done in the form below you are automatically taken to a short additional Zoom registration. We are kindly requesting to complete both.
Bio: Prof.Dr. Ebba Ossiannilsson, Vice President for the Swedish Association for Distance Education (SADE), ICDE Ambassador for global Advocacy of OER, ICDE OER Chair Advocacy Committee. She also works and is in the EC with both EDEN and ICDE, and a quality reviewer for ICDE and EADTU. Professor Ebba Ossiannilsson's work picks up on national and international agendas associated with online and distance education. Recently she was honored to be one of the leaders and legends. An interview available below and the short text say that her work on quality, benchmarking in open online learning and OER is particularly noteworthy, as is her untiring work across multiple professional associations. Interview podcast
This seminar has ended please refer to the live recording or the edited version soon to be available on the e/merge Africa YouTube channel