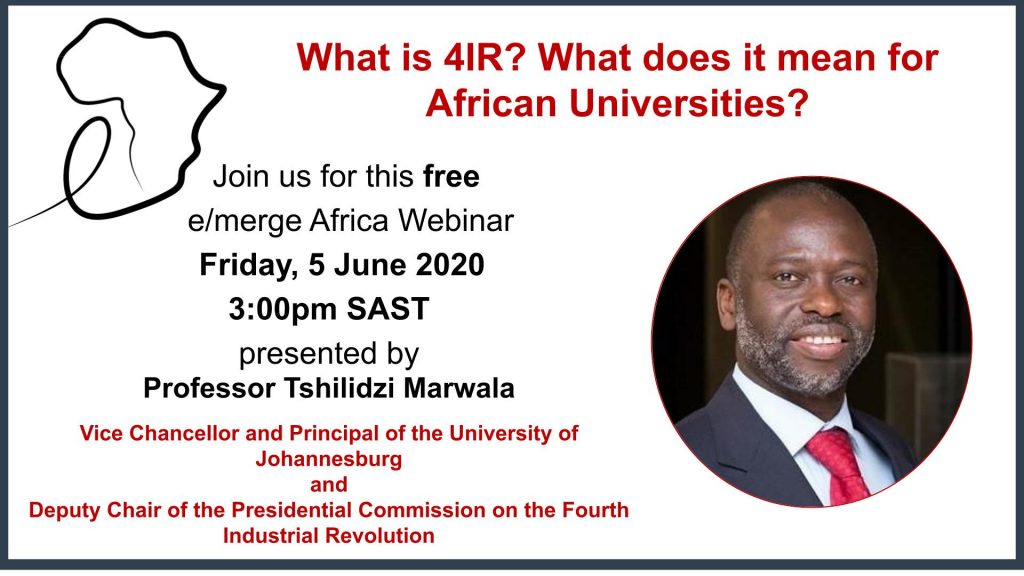 Date and Time: 5 June 2020 – 3 pm (SAST)

Presenter: Professor Tshilidzi Marwala, University of Johannesburg, South Africa
Description:
Over the last year the term "Fourth Industrial Revolution" (4IR) has become pervasive. We are exhorted to catch up and get with the programme but what does this mean in African Higher Education where we are often still grappling with the dynamics of the Third Industrial Revolution across our varied contexts?
This online seminar series aims to inform, facilitate and provoke critical engagement with the implications of 4IR (as both emerging reality and as hype), for higher education in Africa. The series will draw on a range of expert presenters able to think well beyond the hype which is increasingly associated with 4IR.
Please note: This will be a Zoom session – after signing up here you will be automatically transferred to a separate Zoom registration page – we kindly ask you to fill out both. If you signed up previously an email reminder will be be sent in advance with the link for the Zoom registration
Professor Tshilidzi Marwala, Vice Chancellor and Principal of University of Johannesburg, South Africa will be the first presenter in the series.
---
Professor Tshilidzi Marwala is an accomplished scholar with multi-disciplinary research interests that include the theory and application of artificial intelligence to engineering, computer science, finance, social science and medicine. He has an extensive track record in human capacity development and has published 15 books in artificial intelligence. Professor Marwala is the Vice Chancellor and Principal of the University of Johannesburg and prior to this he was the Deputy Vice Chancellor for Research and Internationalisation and Executive Dean of Engineering and the Built Environment both at the University of Johannesburg. He was recently appointed as Deputy Chair of the Presidential Commission on the Fourth Industrial Revolution.
---
This event has ended – please refer to the recording here