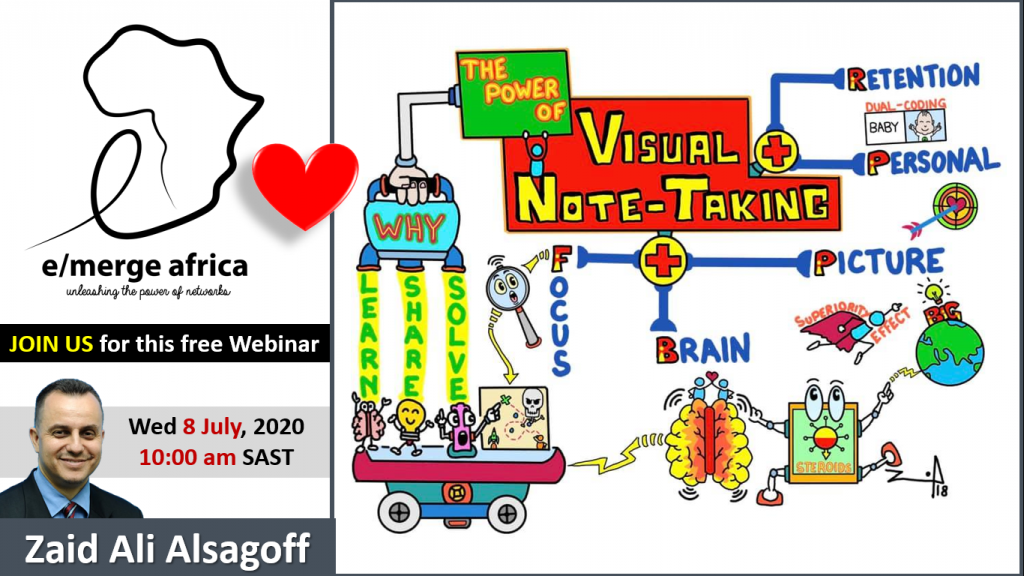 Date and Time: The Power of Visual Notetaking
Presenter: Zaid Ali Alsagoff, AQL Learning Innovation Consultancy (AQL-LIC), Malaysia
Description:
In this webinar, we will explore the basics in drawing, notetaking and digital drawing to empower you to take visual notes both conventionally and digitally. Visual notetaking is the most powerful notetaking method for long-term memory, and unleashing your creative mindset. Educators can use it to visualise, simplify and summarise their courses, modules/topics and lectures. Students can use it as a powerful learning, memory and assessment tool. Visual notetaking is also a powerful tool for creativity, storytelling, brain-storming and problem solving.
At the end of this webinar, the participants will be able to:
Draw cartoon faces, stick figures, connectors and other elements for visual notetaking;
Strategize notetaking layouts and take visual notes; and
Use Autodesk Sketchbook (app) for visual notetaking.
Please note: This will be a Zoom session – after signing up here you will be automatically transferred to a separate Zoom registration page – we kindly ask you to fill out both. If you signed up previously an email reminder will be be sent in advance with the link for the Zoom registration
---
Bio: Zaid Alsagoff is a Learning Innovation Specialist with over 15 years' experience in tertiary and corporate education. He is the founder and CEO of AQL Learning Innovation Consultancy (AQL-LIC), which provides training and consultancy in learning innovation, drawing, visual notetaking, educational technology, memory improvement, speed/smart reading and thinking skills.
He has given over one hundred talks and workshops locally and internationally since 2008. He is known for being an innovative, engaging and inspiring speaker. He has an educational background in Psychology (Bachelor) and IT (Masters). In 2013 and 2014, he was ranked among the Top Ten most influential people in the corporate e-learning sector for the Asia-Pacific region (Bob Little Press & Public Relations). He has also been an AKEPT trainer, member of the National e-Learning and MOOC Committees (under KPM) in Malaysia, and is a certified HRDF trainer. He was recently appointed as a board member of the UNiK school in Istanbul (Turkey).
This event has ended – please refer to the recording on the e/merge Africa YouTube channel