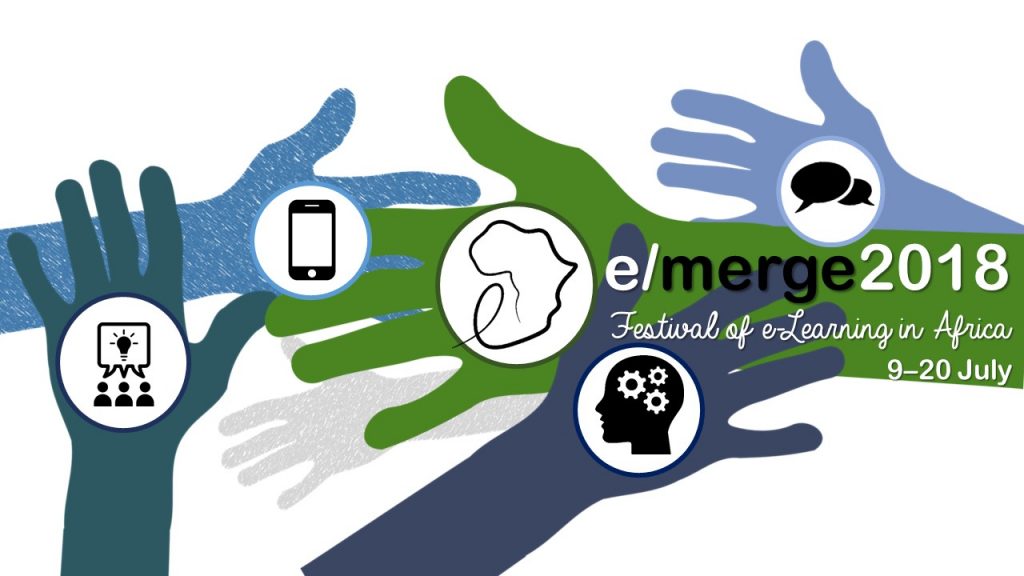 Please note: registration is now Open!  To join us in July register today on the e/merge2018 conference site. We invite you to join our online festival taking place 9–20 July 2018. Our registration fees have been set to mazimise participation.
Presenters and workshop leaders: no charge
Participants in South Africa: R200.00
Participants in all other African countries: no charge
Participants in other continents: R600.00
Festival Theme: Growing e-learning capacity together
After several decades of experience across projects rolling out educational technology it is well understood that the availability of technology is just one of several preconditions for success. Effective integration of technology to enhance learning and teaching requires the development and use of technical, organisational and pedagogical capabilities. This online festival is about the development of deep capacity for e-learning by African higher education in an increasingly networked world.
e/merge 2018 will convene a welcoming space and a diverse, dynamic community across multiple networks to discuss, debate, review, showcase and celebrate e-learning in higher education in Africa. Our focus is on e-learning in African higher education and on joining up the African and global conversations about e-learning research and practice. Presenters and workshop leaders from all continents who are working with or researching e-learning in Africa are encouraged to submit proposals. The presenters and conference interactions will be supported by a team of trained and experienced online facilitators from across Africa.
e/merge 2018 grows out of the series of e/merge online conferences in 2004, 2006, 2008 and 2012, the Transform 2015 online conference and the e/merge Africa network for educational technology practitioners and researchers in African higher education which has presented regular online professional development events since 2014.
Publication Opportunities from e/merge 2018
All the e/merge 2018 presentations and papers will appear in the public online proceedings of the conference. Authors of the best presentations and papers in e/merge 2018 will be invited to submit improved versions of their papers for publication in the International Journal of Education and Development using Information and Communication Technology (IJEDICT). There are also likely to be other post-conference publication opportunities for e/merge 2018 authors.
Timeline
6/7/2018: Conference site goes live
9/7 – 20/7/2018: e/merge 2018
We thank all who took part in this wonderful event either as participant or presenter! If you registered and attended the Festival resources are still available on our Sakai festival site. We are currently working on making proceedings available to our wider network