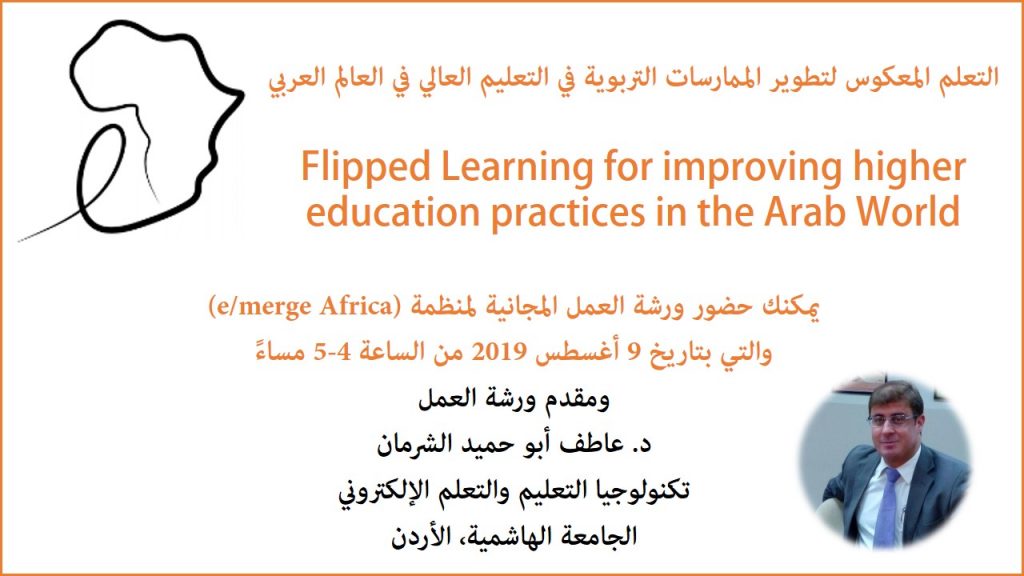 In acknowledgement of Africans not having English even as third or fourth language the question around engaging in events in other languages than English has been frequently debated within the e/merge Africa core organizing team. Lead by team member Mohamed Ahmed of Mansoura University, Egypt, we are now taking a small yet significant step in this direction through piloting online seminars in Arabic. Over the coming months colleagues located in the Middle East and Arabic speaking Africa will present on Friday afternoons 4 – 5 pm (Cairo time – see your local time zone here – This time slot is subject to change in the future). For more details for events below and to sign up please go to e/merge Africa Arabic Once signed up we will send you details on how to attend. For questions and thoughts about this initiative we welcome your comments to this post. If you wish to present in Arabic please use the Presenter's form which is available via the e/merge Africa Arabic website.
The first event 9 August 2019 4 – 5 pm (Cairo time see your local time here) is presented by Atef Abuhmaid from Hashemite University, Jordan focusing on the impact of the flipped classroom in the Arab world. This event has ended – Recording is available here
The next event 30 August 2019 4 – 5 pm (Cairo time) will be presented by Ahmed Saadeldin Anwar Morsy, Ministry of Communications and Information Technology (MCIT) Egypt, focusing on the role of Gamification
Scheduled for the 13 September 2019 Maha Bali from the American University in Cairo will speak about open education.
As we are having more events confirmed these will be announced both on our English and Arabic language platforms.