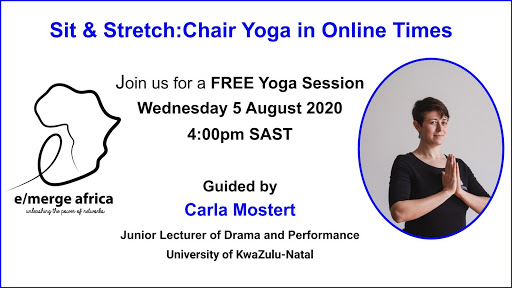 Host: Carla Mostert, Junior Lecturer of Drama and Performance, University of Kwazulu Natal (South Africa)
Date and Time: Wednesday 5 August 2020, 4:00pm SAST
Time converter at worldtimebuddy.com
Description: As COVID-19 continues to test us mentally and physically, many of us are spending extended hours in front of our computer screens. Gyms are closed and it feels like there's no time to exercise. Join me for an hour of "Sit & Stretch" where we'll be doing Chair Yoga. We will breathe, twist, and release those scrunched up shoulders, all without leaving our desks. No prior yoga experience is needed, this is for everyone.
Presenter: Carla Mostert is a Junior Lecturer of Drama and Performance at the University of Kwazulu Natal, Pietermaritzburg. Passionate about the arts, theatre, and most recently unpacking her whiteness.
IG: @carlathewhite
LinkedIn: https://www.linkedin.com/in/carla-mostert-00484bb0/
Language:Please note session language is English 
This event has ended – thank you to all who participated!