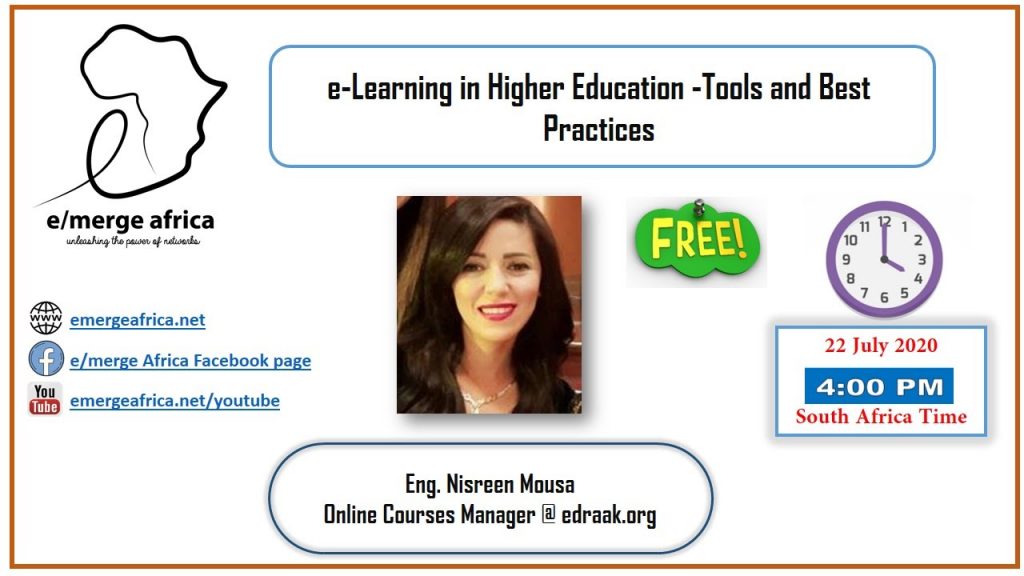 Presenter: Eng. Nisreen Mousa, Online Courses Manager at Edraak
Date and Time: Wednesday 22 July 2020, 4:00pm SAST/Cairo Time
Time converter at worldtimebuddy.com
Description: In this Webinar, the presenter will discuss:
The current imperative need for e-learning in higher education
The advantages and challenges of e-learning in higher education
Has the e-learning experience succeeded?
Creating online courses and digital educational material
Choosing the right online tools for delivery, communication, and evaluation
Suggestions for developing the e-learning experience
Bio: Nisreen Rawashdeh, a computer engineer, and an educational technology expert. Graduated in 2007, and holds a higher diploma from Edinburgh Business School. With 13 years of experience in Technology and Education. Worked as a programmer for five years and then moved to e-learning. Currently working as an e-course manager and university program coordinator at Edraak
Language:Please note seminar language is English
Twitter: @edraak
Once registration is done in the form below you are automatically taken to a short additional Zoom registration. We are kindly requesting to complete both.
This event has ended – For the recording please see the e/merge Africa YouTube channel