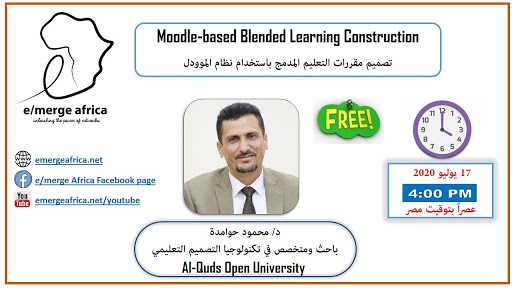 Presenter: Dr. Mahmoud Hawamdeh, Researcher and specialist in educational design technology, Al-Quds Open University.
Date and Time: Friday 17 July 2020, 4:00pm SAST/Cairo Time
Time converter at worldtimebuddy.com
Description: Due to Corvid -19, the blended learning has become critical of teaching reform in universities and school, where the learning style will be changed from face-face classroom learning to combination of classroom and online learning. Combining the Moodle Platform's function of blended learning module will help the teacher to have a better teaching effect. This webinar covers the different sections of planning and design the blended learning course using functions and modules provided by Moodle. Such as developing the learning objectives and activities, quizzes and assignments, forums and using live chat and much more.
Language:Please note seminar language is Arabic
Facebook: https://www.facebook.com/mahmoud.hawamdeh
For more information (in Arabic) and to sign up for this event please see e/merge Africa Arabic