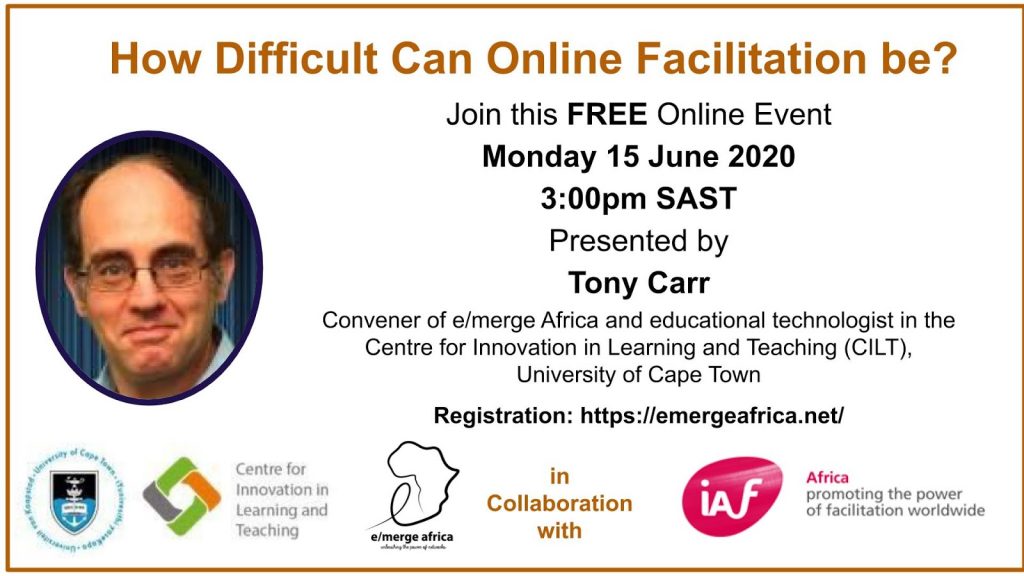 Presenter: Tony Carr, e/merge Africa in collaboration with IAF Africa
Date and Time: Monday 15 June 2020; 3:00pm SAST
Time converter at worldtimebuddy.com
Description: Whether you identify primarily as an educator or facilitator you already know a lot about facilitation before you take your practices online. This event considers how online facilitation is different from face to face facilitation and includes some key factors and advice that will support successful online facilitation. The event will include a lot of interaction with participant perspectives including small group activities in breakout rooms. The webinar also introduces the Facilitating Online course which trains facilitators of online courses, workshops and networks.
Once registration is done in the form below you are automatically taken to a short additional Zoom registration. We are kindly requesting to complete both.
Bio:
Tony Carr is the Convener of e/merge Africa and educational technologist in the Centre for Innovation in Learning and Teaching (CILT), University of Cape Town
He has lived in Durban, London and Cape Town. After an earlier career as a Business and Economics educator a fascination with online interaction led to his work since 2000 as an educational technologist. His operational and research interests include online collaboration, communities of practice in staff development, online facilitation and online professional networks. In 2014 he received a Dewey Winburne Community Service Award. He has co-authored the OER Facilitating Online Guide for Course Leaders. He developed the Facilitating Online course which he also convenes.
This session has ended please refer to the e/merge Africa YouTube Channel for a future recording