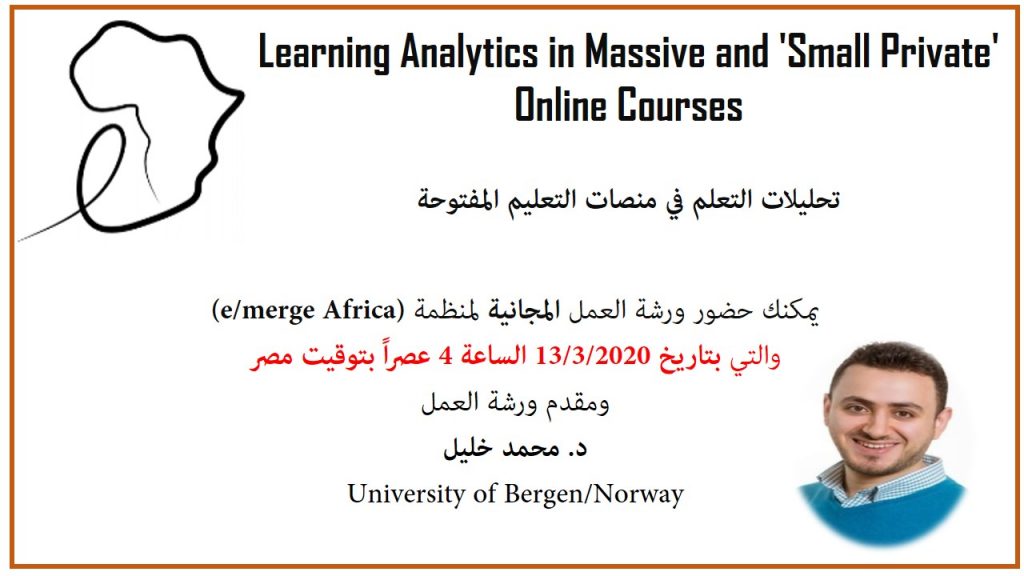 Presenter: Dr. Mohammad Khalil, University of Bergen, Norway
Date and Time: Friday 13 March 2020, 4:00pm SAST/Cairo Time
Time converter at worldtimebuddy.com
Description: In this presentation Dr. Mohammad Khalil from University of Bergen/Norway will briefly demonstrate the potential of learning analytics in Massive Open Online Courses (MOOCs). Learning analytics is concerned with data measurement, collection, analysis and reporting of students in order to improve the learning experience. In MOOCs, learning analytics have proven to support students indirectly by decreasing the dropping out rate and explaining their learning behavior.
Language:Please note seminar language is Arabic
Twitter: https://twitter.com/TUMohdKhalil
Facebook: Mohammad Khalil

Bio: Dr. Mohammed Khalil holds a Ph.D. (with Distinction), Engineering Sciences – Computer Science from the University of Technology, Graz, Austria and an M.Sc. in Information Security from Princess Sumaya University for Technology,Amman, Jordan.
Thank you to all who attended – recording available here