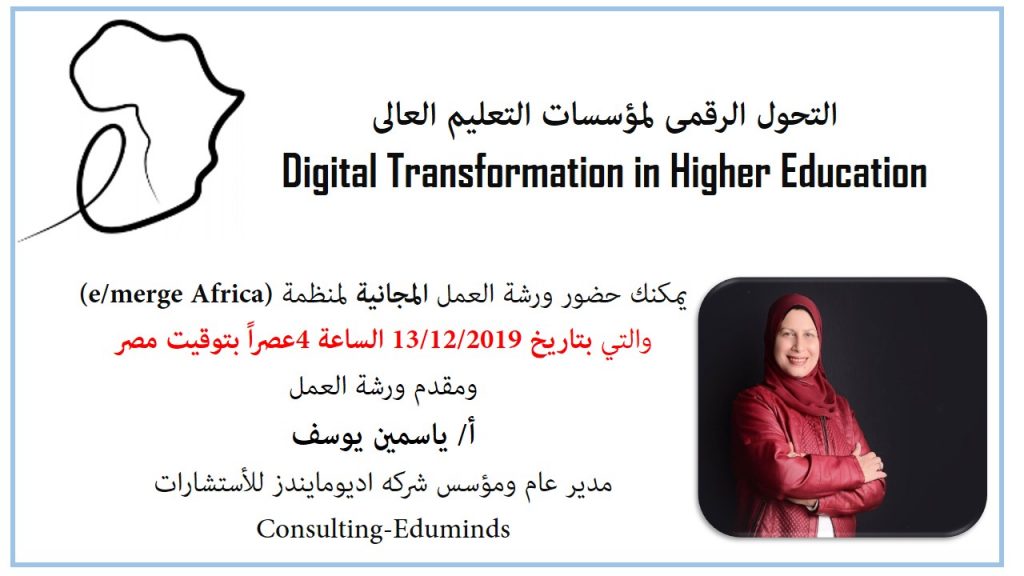 Presenter: Yasmin Youssef, CEO & Co-Founder of EduMinds Consulting, Egypt
Date and Time: Friday, 13 December 2019, 4-5pm SAST/Cairo Time
Time converter at worldtimebuddy.com
Description: This webinar will look at gains and challenges of digital transformation in higher education as witnessed at Ain Shams University and other institutions of higher learning in Egypt.
Yasmin Youssef is CEO & Co-Founder of EduMinds-Consulting and Certified education and ICT expert for interactive education technology. She is also Internal Assessor for the European Foundation for Quality Management (EFQM), a Lecturer for master students at the German Excellence Center, Faculty of Pedagogy at Ain Shams University. A Certified trainer for higher education in the field of e-learning and Institutional Development at the German Academic Exchange Service (DAAD).
Yasmin supports leaders in managing technology, also in transforming and innovating their institutions to provide education for sustainable development and helps educators in integrating technology in an interactive, meaningful and effective way. She wrote many research and conference papers in integrating Technology in educational Institutions and has recently published a book in Germany about "Blended learning and reforming education in Egypt". She holds a Master's Degree in International Education Management from both PH Ludwigsburg/Germany and Helwan University/Cairo.
Registration and more information on the e/merge Africa Arabic event section