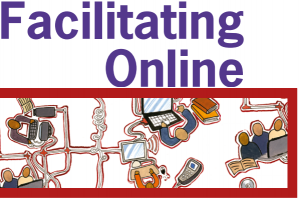 We invite applications from educational technologists and educators based in African Higher Education Institutions to participate in a free five week course in online facilitation funded by the Carnegie Corporation of New York. A maximum of 50 participants can be accommodated.  Course participation will be entirely online and will require up to 8 hours of participation per week. Facilitating Online was developed by the Centre for Innovation in Learning and Teaching (CILT) at University of Cape Town and is registered as a short course at the University of Cape Town.  A certificate of completion will be awarded for successful completion of 75% of the assessed activities of the course.
Application for the October – November run of this course will be open until 18 September 2015. We are also planning to offer further instances of the course during 2016. Please contact us on [email protected]emergeafrica.net if you would like more information or for us notify you when registration opens for the 2016 courses.
Target participants
The course is aimed at experienced educators at higher education institutions in Africa who have reliable internet access and the opportunity to run courses or components of their courses online.  Selection criteria include:
previous experience of online teaching and learning
at least five years' experience as a university educator or educational technologist
willingness to teach future online facilitation courses in their local/regional context or
willingness to be a conference host for the e/merge Africa online educational technology network across African universities.
All applicants will require a letter of support from their line manager or Head of Department.
To apply, please use our online application form by 18 September 2015
Course Facilitators:
Esther Gacicio is an Assistant Director in eLearning at the Kenya Institute of Education (KIE)
Khanyisile Ngodwana is a Writing Centre Coordinator at Walter Sisulu University and a Tutor for UNISA Language and Study Skills and Workplace English courses
Nicola Pallitt is an Educational Technologist in the Centre for Innovation in Learning and Teaching at University of Cape Town
Nompilo Tshuma is a Learning Technologist at Rhodes University in South Africa.
Course Convenor:
Tony Carr is an Educational Technologist in the Centre for Innovation in Learning and Teaching at University of Cape Town and Convenor of the e/merge Africa network.
Deadlines and course schedule
The course schedule includes reflection time and takes account of the complex and busy lives of participants by building in a break of a week after each fortnight of course activity.
5 October – 9 October: Week 0 (Entering site, addressing technical issues, introductions)
12 October – 16 October: Week 1
19 October – 23 October: Week 2
26 October – 30 October: Consolidation Week 1
2 November – 6 November: Week 3
9 November – 13 November: Week 4
16 November – 20 November: Consolidation Week 2
23 November – 27 November: Week 5
Enquiries
You can address queries by e-mail to [email protected]emergeafrica.net .