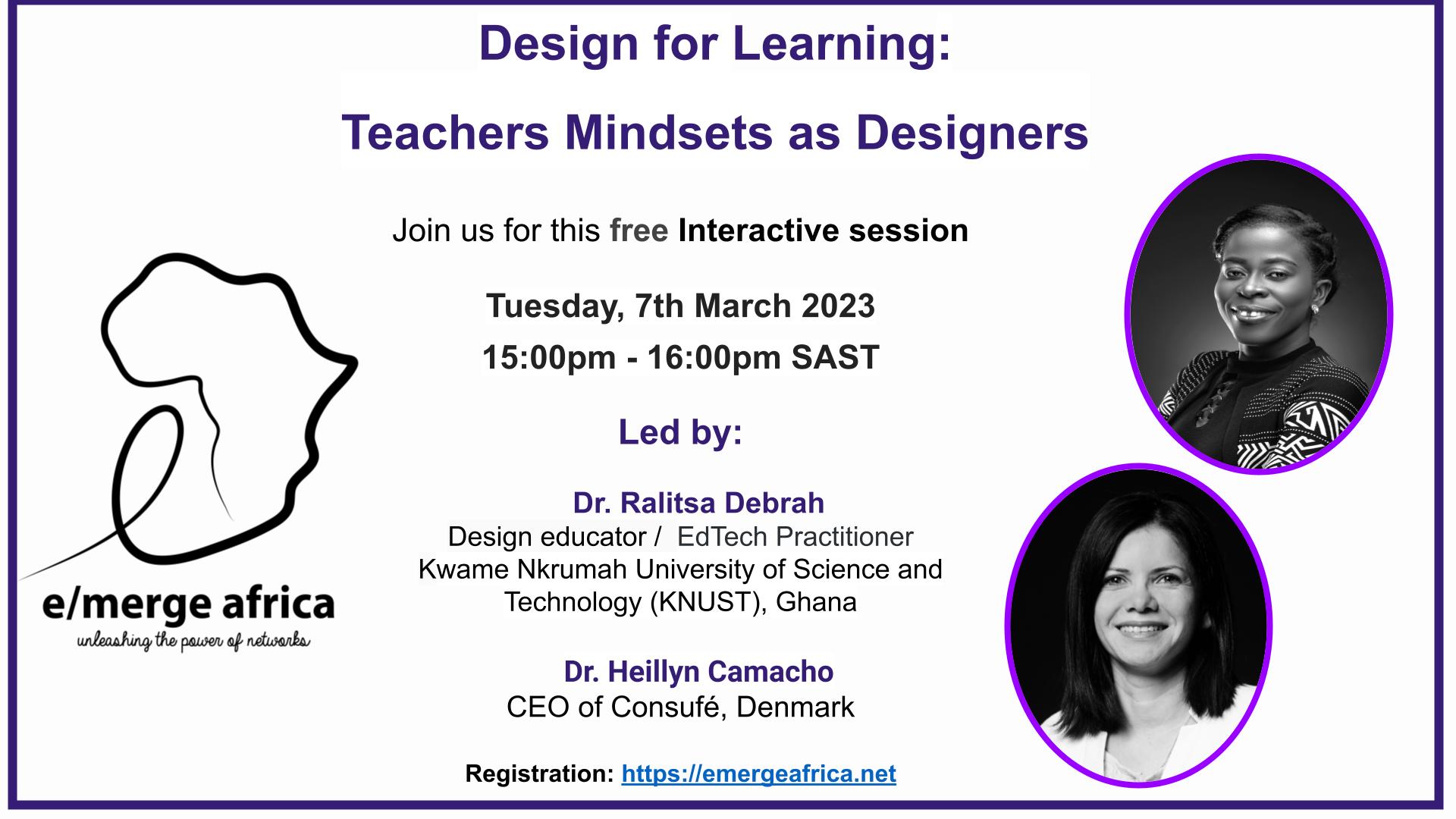 Session Description:
The art and science of teaching requires educators in their various learning environments to prepare learners for lifelong careers. However, teachers need innovative pedagogies for learners to acquire the needed 21st century skills to meet global demands in the workforce. Hence, the need to advance the discourse on " Design for Learning – Teachers Mindsets as Designers".
Teachers need to develop new competences and ways of thinking to be able to face new educational challenges, among the approaches that have been found relevant to cope with the new teaching and learning scenarios is the incorporation of design in the educational field, seeing the teaching practice as a design profession. In this context, during the webinar we:
Present some theoretical perspectives about design for learning
Discuss the concept of teacher as designers
Explore suggested mindsets of teachers as designers
We engage in a period of questions and comments from the participants
We would like to see the webinar as a dialogue around the concept of teachers as designers and the required design mindsets.
To join this session please sign up via Zoom here
Session Lead:

Dr. Ralitsa Diana Debrah is a designer and educator with over a decade experience of consulting both locally and internationally. She is a lecturer at Kwame Nkrumah University of Science and Technology (KNUST), Ghana. She serves as a learning experience designer at the eLearning Centre and Department of Communication Design, KNUST, Ghana. She is a member of e/merge Africa Network – CILT, CHED | University of Cape Town (UCT), South Africa.
She holds a Ph.D. in the area of Design, Innovation, Sustainability and Informatics from the Cape Peninsula University of Technology, South Africa.
She is associated with several design organisations such as Open Design Afrika, DesignGhana, Pan Afrikan Design Institute; Type Directors Club, Cumulus, DESIS Network and the World Design Organisation (WDO) | Young Designers Circle (YDC). She is a co-founder and acts as the Technology and Innovation Specialist for Inclusive-Tech-Group (ITG), a not-for-profit organisation in Ghana. She loves People, Design, Technology and Research. She is a lifelong learner and a futurist.
Contact: [email protected] | [email protected]
Social Media: Linkedin: @Ralitsa D. Debrah | Twitter: @RalitsaDebrah
Facebook: @Ralitsa D. Debrah | Instagram: Ralitsa D. Debrah
Dr. Heillyn Camacho, is the CEO of Consufé, a small company located in Denmark. The company works within the field of professional development for teachers and learning designers. She has a PhD in human centered informatics and active learning, from Aalborg University. She is associated with the e-Learning Lab: Center for User Driven Innovation, Learning and Design, Department of Communication and Psychology, Aalborg University. She has worked with many international project within the field of teachers development, e-learning, 21st century development and organisational change, such as:
C.L.I.M.B. Custom Learning through Innovative Methodologies and Blended training
Open Data Education (ODEdu), EU Erasmus+ project.
CityLab Latin America: The project aims to stimulate innovation and quality of higher education institutions in Latin America and Europe through Problem Based Learning. The project brought together 17 different universities.
EEIS-HEA: Enhancing Entrepreneurship, Innovation and Sustainability in Higher Education in Africa
Community of Integrated Blended Learning in Europe (Comble)