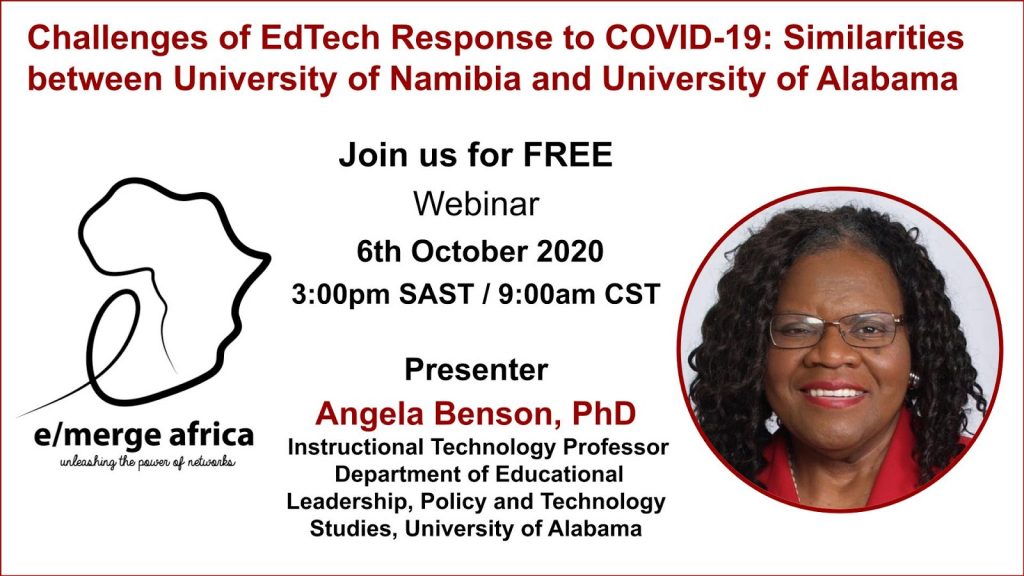 Date and Time: Tuesday, 6 October 2020; 3:00pm SAST/ 9:00am CBT
Time converter at worldtimebuddy.com
Presenter: Dr. Angela D. Benson is a professor of instructional technology in the Department of Educational Leadership, Policy and Technology Studies at the University of Alabama. Her research addresses the role of culture in technology-mediated learning environments. She has given more than 50 presentations and published more than 40 academic publications related to distance and online learning. In addition, Dr. Benson has taught a variety of educational technology courses delivered in a variety of formats. Her professional experience includes thirteen years as a systems engineer in the telecommunications industry. She holds undergraduate degrees in Math and Industrial Engineering, master's degrees in Operations Research and Human Resource Development, and a doctorate in Instructional Technology.
She has published more than 40 academic publications and presented more than 50 academic presentations, primarily addressing issues of power and politics in online learning environments. She regularly teaches courses in instructional technology foundations, instructional design, online course development, software development and technology management. She has also facilitated more than 50 educational technology workshops for higher education faculty and staff, including a recent session with 30 Chinese scholars in Shenyang, China. Dr. Benson is one of the editors of the book, Culture, Learning and Technology: Research and Practice, and President of the Culture, Learning and Technology Division of AECT.
Dr. Benson was serving as a Fulbright Scholar in the Faculty of Education at the University of Namibia in Windhoek, Namibia from January 2019 – June 2020.  Follow her journey on Facebook. Description: This session will look into the commonalities between the USA and Namibia in EdTech response to COVID-19 and the common challenges both countries face with serving marginalized communities.  The webinar will compare how EdTech is deployed and used in University of Namibia (UNAM) and at the University of Alabama.  It will highlight the rationales for the decisions made and the focus will be on how we are alike and face similar challenges even from different settings and institutions.
This event has ended – please refer to the e/merge Africa YouTube channel for a recording (upcoming)