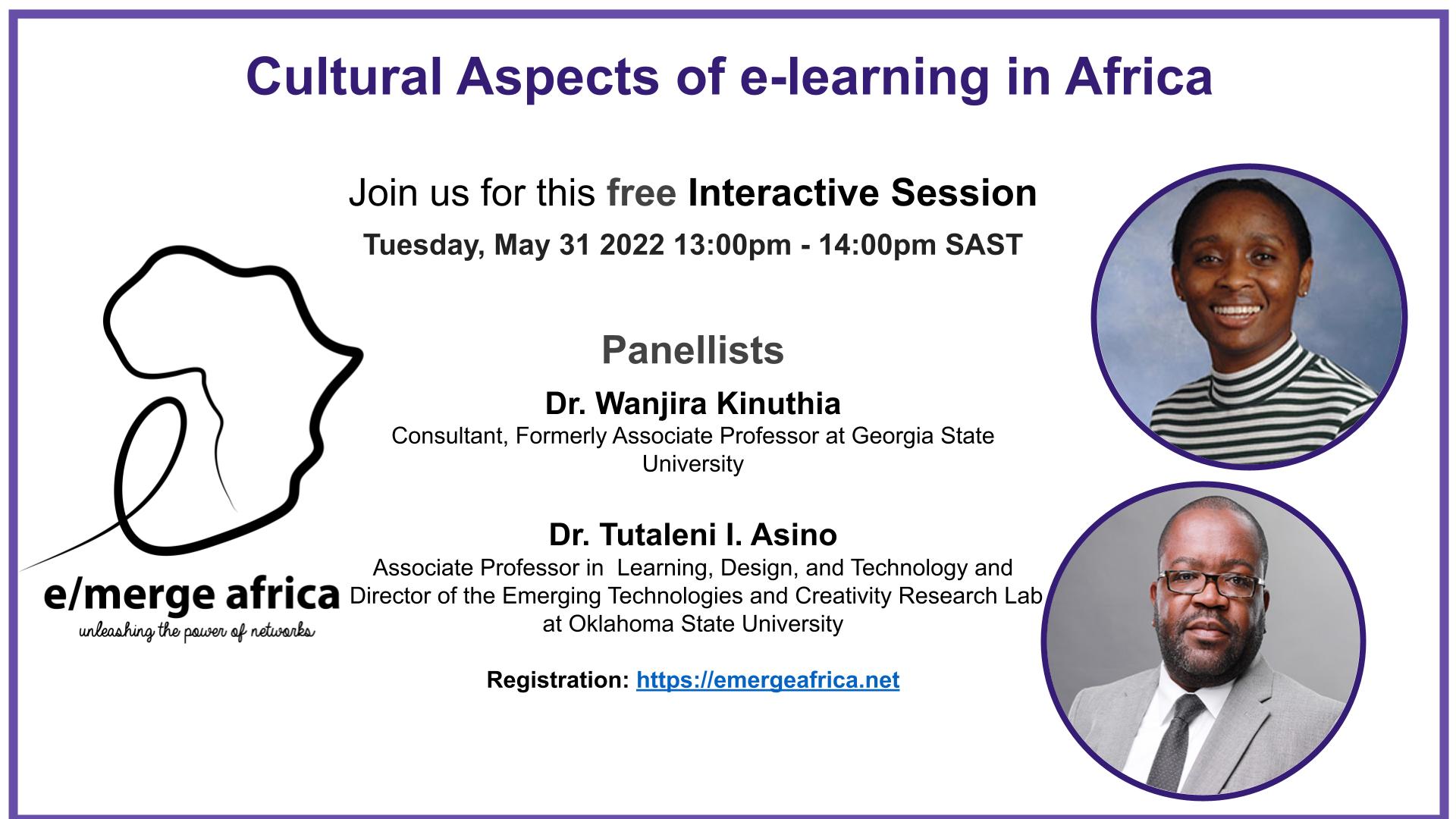 Session format: Workshop series
Date and Time: Tuesday, May 31 13:00pm – 14:00pm SAST
Panellists:.
Dr. Wanjira Kinuthia, Consultant. Formerly Associate Professor at Georgia State University
Dr Tutaleni I. Asino Associate Professor at Oklahoma State University
Description of the session:
Culture is the container in which all learning takes place. Even when using the same tools, the cultural context can have an impact on the learning outcomes. In this session, we will look at the cultural aspect of eLearning in Africa, the transitioning to a context where teaching with technologies varies; being in two contexts at the same time and faculty/professional development experiences.
Description of the session:
Panellists' Bios:

Dr. Wanjira Kinuthia works on learning design projects in the US, Africa, the Caribbean, and UAE. Activities include consulting in higher education and NGOs on eLearning and curriculum development and mentoring graduate students. Service activities include Editorial Board membership on the International Journal of Education and Development using Information and Communication (IJEDICT) and the e/Merge Africa mentorship program. Research projects include OER and mLearning where she has edited several books and published many articles. Wanjira received her Ph.D. in Instructional Design and Technology and served as an Associate Professor for many years at Georgia State University.
Dr. Tutaleni I. Asino is Associate Professor in Learning, Design, and Technology and Director of the Emerging Technologies and Creativity Research Lab at Oklahoma State University and the founder of the Namibia House club in Clubhouse. He spends most of his time with one foot on the Afrikan continent in Namibia, the other on the North American continent in the USA and his arms stretched out to the world beyond. His research focuses on emerging technologies in education; diffusion of mobile devices in teaching and learning; Mobile Learning; Design for Mobile Devices; Indigenous knowledge; Openness (access, education, resources, pedagogy); Comparative International Education; and the role of culture in the development and evaluation of learning technologies.
Twitter handle: @tutaleni
LinkedIn: Tutaleni Asino
Website link:
Zoom registration link: https://uct-za.zoom.us/meeting/register/tJ0vcOyoqjkoHdKUwmVPDHcb579d3jPKVJ5y