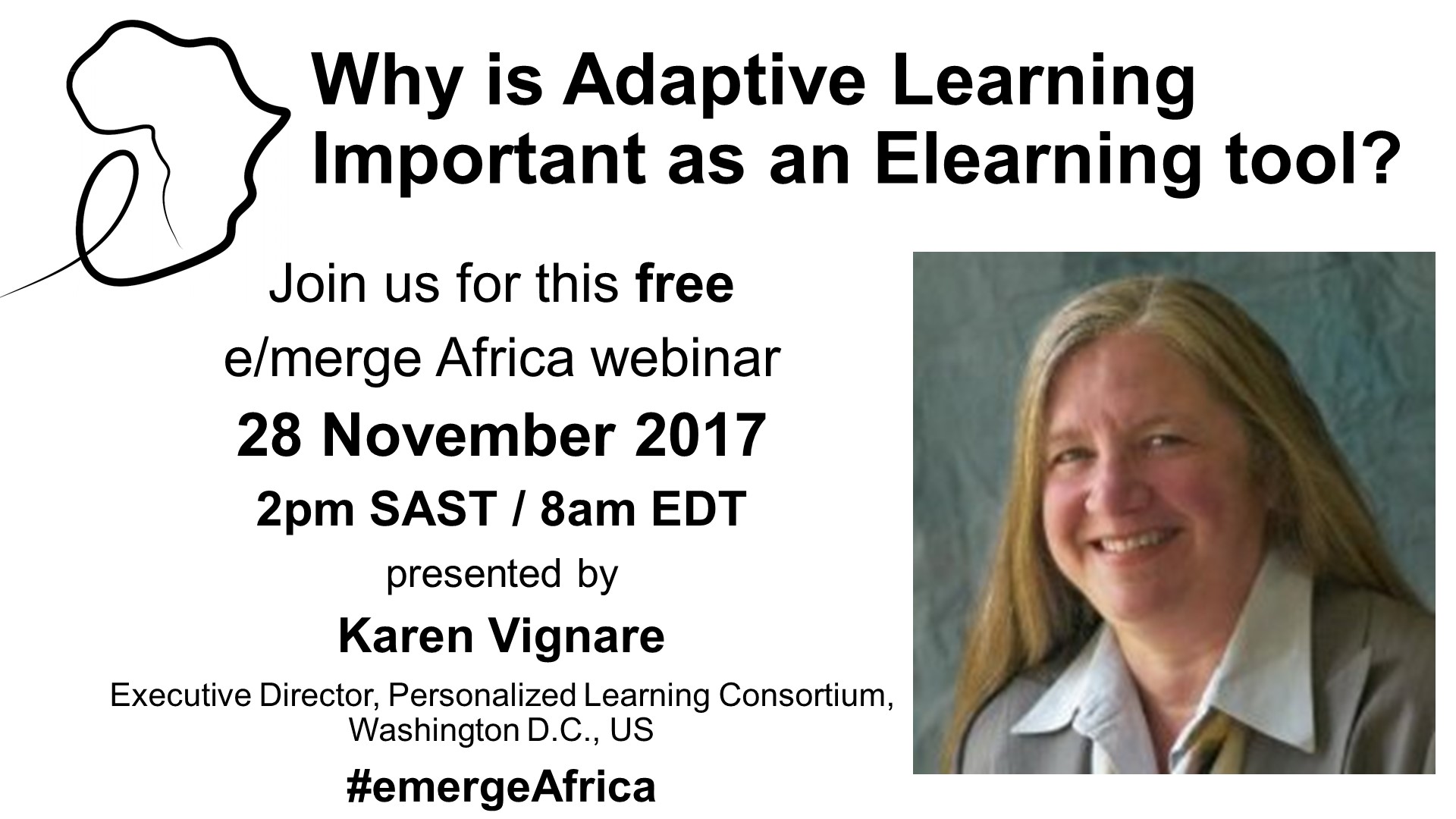 Presenter: Karen Vignare, Ph.D Association of Public and Land-grant Universities (APLU), United States
Time and Date: 28 November 2017, 2pm SAST / 8am EDT
Time converter at worldtimebuddy.com
Adaptive learning has the potential to transform student learning by providing students with self-paced individualized learning experiences. How can we leverage emerging technologies to improve access, success and flexibility within higher education? Throughout the elearning world, faculty and universities are exploring the use of adaptive learning technologies. Adaptive learning can be defined as an approach to creating a personalized learning experience for students. Adaptive learning takes a sophisticated, data-driven, and in some cases, non-linear approach to instruction and remediation, adjusting to a learner's interactions and demonstrated performance level and subsequently anticipating what types of content and resources learners need at a specific point in time to make progress. Active learning occurs when students are no longer just passive participants in the learning process. Active learning can be as simple as students working in groups in the classroom instead of listening to a lecture.
The combination of adaptive and active has been shown to increase student outcomes. These pedagogical approaches provide faculty with data and insight about student performance. As a result, more faculty are changing the tactics they use in the classroom to be active and make sure all students succeed or achieve mastery sooner.
In this webinar, Karen will share some of the experiences of universities in the USA which are scaling adaptive learning. She will also share some of the early research and collective thinking on the following questions:
What are active and adaptive learning?

What does it involve?

What are some of the benefits for students and lecturers?

Will adaptive learning grow in African universities?
Do you have a specific question about active or adaptive learning that you'd like Karen to answer? Please register and submit below
Resources:
How Adaptive Learning Can Make Higher Ed More Customized and Effective (Part 1)
How Adaptive Learning Can Make Higher Ed More Customized and Effective (Part 2)
Lorenzo, G. 2016. Failing Forward With Adaptive Learning in Higher Ed. In EdSurge.
This webinar has ended please refer to the resource page for recording and other resources
---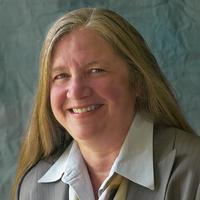 Karen Vignare, Ph.D., M.B.A, is a strategic innovator leveraging emerging technologies to improve access, success and flexibility within higher education. As Executive Director, for the Personalized Learning Consortium at the Association of Public and Land-grant Universities, Karen manages a network of universities committed to student success through personalization. She also oversees the adaptive courseware grant providing leadership and support to eight pioneering universities which are scaling adaptive courseware in introductory level courses.
Karen previously served as a Vice Provost, at University of Maryland University College, the largest online public open access institution where she led innovations in adaptive learning, student success and analytics. Previous to that work, she served as Director of Project Planning and Implementation for MSUGlobal at Michigan State University where she helped multiple units leverage emerging technologies in extension, non-credit programs, corporate settings, and research projects. She has published extensively on online learning, analytics, and open educational resources. She has a Ph.D. from Nova Southeastern University and an M.B.A from University of Rochester, William Simon Business School.