Presenter: Ahmed Fekry Mohamed Abd Elghafour, eLearning Center Of Excellence (eLica), Egypt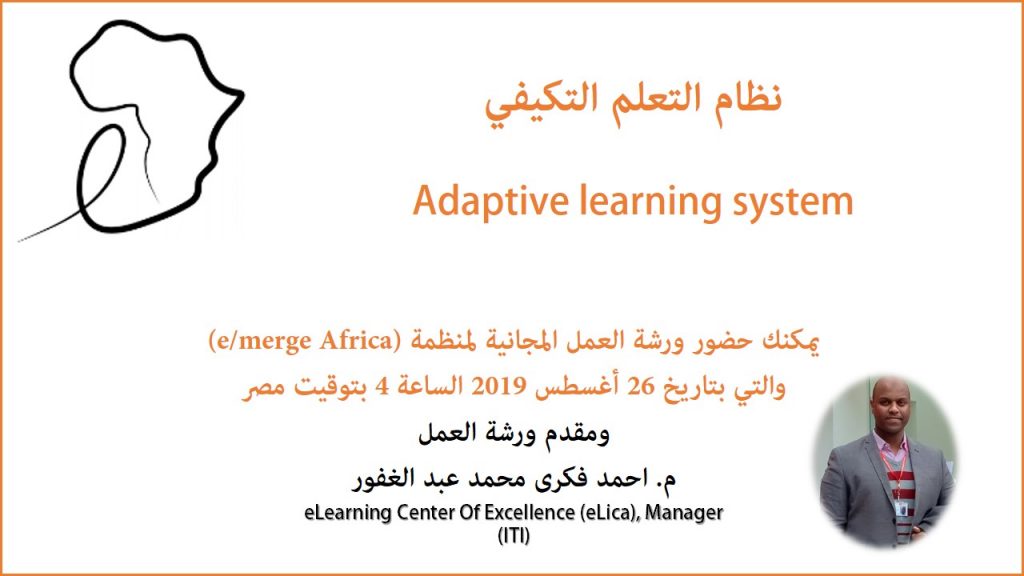 Time and Date: Arabic language webinar 26 August 2019 4 pm (SAST)
Time converter at worldtimebuddy.com
Description:
An adaptive Learning System is a platform for transforming the learning system from a passive reception of information by the receiver to an interactive process for collaboration in the education process. Adaptive Learning Systems are used in education as well as in business training. Most adaptive learning systems apply the concept of personalized learning and thus try to customize the content according to the current skills and learning preferences of students and trainees.
For more information and to sign for this and other Arabic language events please see the e/merge Africa Arabic site
Ahmed Fekry Mohamed Abd Elghafou has a strong background in information technology complemented with leadership positions in regional and provincial Software /eLearning projects. He has served in different Content Development projects in Egypt, Ireland and India as well. He is experienced visioning, costing and executing projects from inception to launch and is able to provide a structured framework to analyse complex situations into simple strategic imperatives. As an eLearning manager, Ahmed had a lot of Participation in International and Recognized Conferences in eLearning and Software such as DevLearn(USA) ,OnLine Educa (Germany)and eLearning Africa.
This event has ended – please refer to the YouTube recording