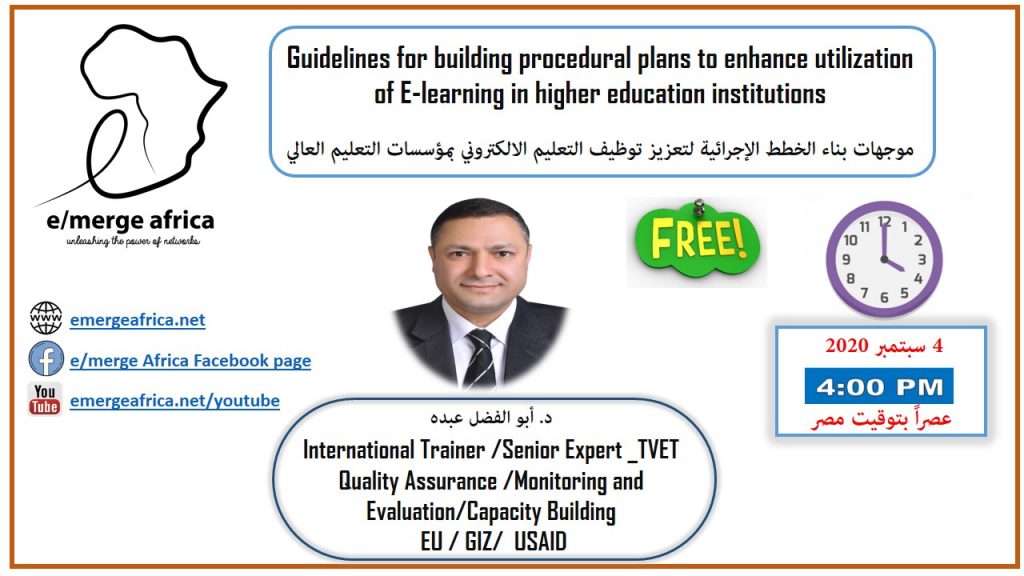 Time converter at worldtimebuddy.com
Presenter: Dr. Abouelfadl Abdou Youssef
Date and Time: 4 September 2020 4 pm (SAST/Cairo)
Session format: 2 hour Webinar
Description: Guidelines for building procedural plans to enhance utilization of eLearning in higher education institutions
Elements of the workshop:
Taking into consideration the rapid growth of E-learning technology before generalizing E-learning in higher education institutions.
Adopting the effectiveness of E-learning and its impact on education instead of focusing on the E-learning tools themselves.
Improving learning processes using E-learning types.
Improving teaching / learning experiences for learners.
Development of human resources capabilities (faculty members – administrators).
Applying distinguished practices.(Best Practices).
Easy access to content.
Variety of activities suitable for educational content.
Flexibility of evaluation processes.
Building a mutual exchange network between symmetrical institutions that utilizing eLearning.
Presenter Bio: Dr-Abouelfadl Abdou Youssef
International Trainer /Senior Expert _TVET Quality Assurance /Monitoring and Evaluation/Capacity Building EU / GIZ/ USAID
To sign up for this event please refer to the e/merge Africa Arabic website
Language:Please note seminar language is Arabic
Twitter:
Facebook:https://www.facebook.com/aboelfadl.abdo1
This event has ended – please for refer to the e/merge Africa YouTube channel for a forth coming recording