With Ariane Janse van Rensburg & Jolanda Morkel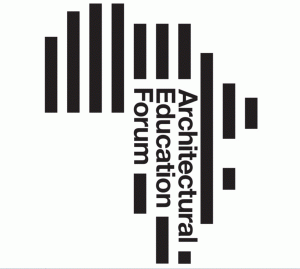 3 December 2014 – 12h00 – 13h00 (SAST/GMT+2)
YOU ARE INVITED
The main intent of this upcoming live online event is to continue discussions and the sharing of resources and experiences across Africa, in Architectural Education, but not limited to it. Anyone interested in Learning and Teaching, specifically in project-, problem- and enquiry based contexts, is invited to participate.
Ariane Janse van Rensburg will share the AEF UIAreport back document and Jolanda Morkel will highlight the main issues adressed in the newly released International Student Charter, after which discussion, either by audio or text chat, is invited.
THE ARCHITECTURAL EDUCATION FORUM
The Architectural Education Forum was the outcome of a Symposium on Architectural Education hosted by the Wits School of Architecture and Planning, South Africa, in early 2014 and is a grouping to critically discuss how to improve architectural educational practice here and now and to exchange relevant information. Its main focus is issues that are relevant to architectural education in Africa, especially sub-Saharan Africa, which includes global and regional concerns. Its membership consists mainly of teaching staff from schools of architecture from over Africa, but there has also been support and interest from other associations concerned with architectural education based on other continents.
The immediate aim was to enable architecture lecturers who attended the symposium to continue a constructive discussion on current research and practice generated by the challenges of teaching in a transformative way in changing circumstances in South Africa.
The need for such a forum had already been expressed at a previous conference on "Changing Paradigms" in 2013 and the fact that many interested parties would be together in Durban for the UIA Congress seemed an excellent opportunity to continue the conversation.
The Forum started informally as a group of people who wanted to be notified about the next discussion, but it has been growing steadily ever since. The AEF hosted a congress session at the UIA Congress entitled "Architectural Education Otherwhere – seen from the South", which resulted in poster outputs and engaging discussion (see UIA report back document). At the UIA it was agreed that the AEF would approach e/merge Africa to facilitate an online meeting to strengthen ties and llinks across Africa and beyond.
AEF activities are presently being convened by Ariane Janse van Rensburg of the University of the Witwatersrand and Jolanda Morkel of the Cape Peninsula University of Technology. For further information the contact
e-mail is moc.liamgnull@muroFdEihcrA
To sign up for this event, please use the form below
Regards
Jolanda
Ariane Janse van Rensburg is a Senior lecturer in design and teaching and learning convenor in the School of Architecture and Planning, University of the Witwatersrand, Johannesburg.BAS (UCT), B.Arch (UCT), M Arch by Research (Wits). Current PhD research on enabling transformation in architectural education.
Ariane turned to full-time teaching after extensive years in urban and rural architectural practice. She is involved in various university teaching and learning and transformation bodies and serves on SACAP and CAA accreditation panels. Currently she is completing a PhD in architectural education. She started the Architectural Education Forum after a successful symposium hosted at Wits this year. She also co-presented the 'Architectural Education Otherwhere – seen from the South' workshop with Jolanda Morkel at the UIA 2014 Durban congress
Jolanda Morkel is a qualified architect and senior lecturer in the Department of Architectural Technology in the Faculty of Informatics and Design at the Cape Peninsula University of Technology. The focus of her research and current doctoral studies in Design is the virtual learning environment for mastering conceptual design. She is investigating how emerging technologies may support the collaborative studio learning experience online.