Presenters: Yvonne Earnshaw, Nike and University of Memphis (US), Amy Lomellini, Molloy College (US), Jennifer Maddrell, Designers for Learning (US), Esther Michela, Bringham Young University (US)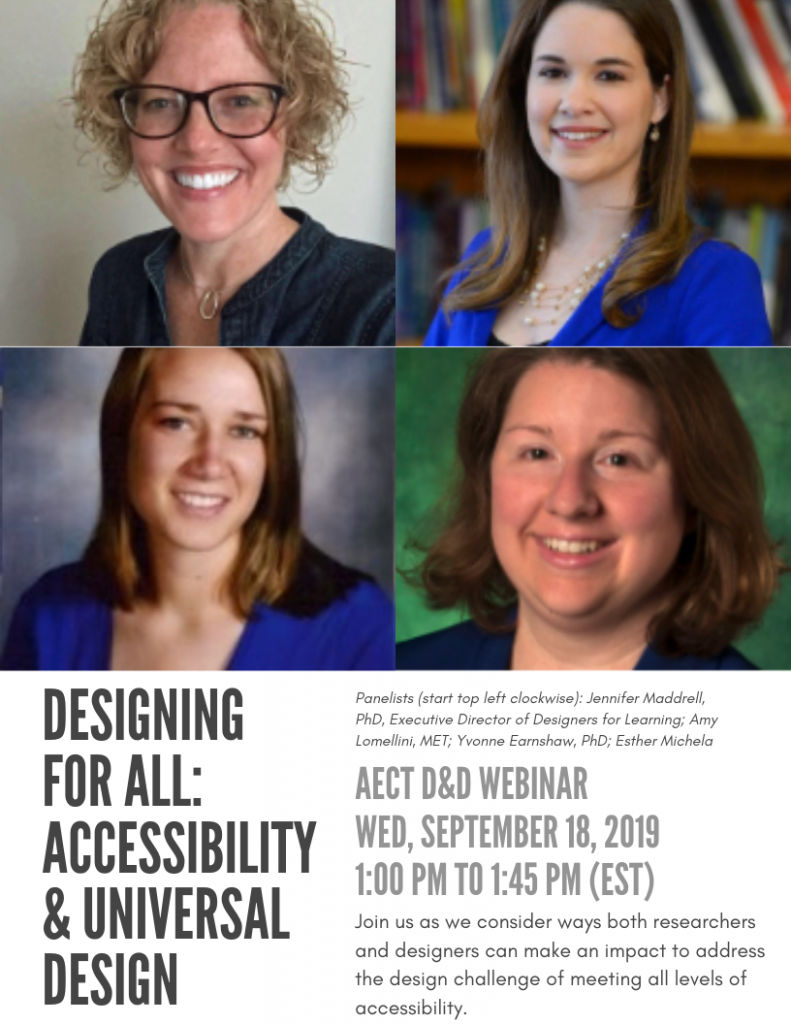 Time and Date: Wednesday 18 September 2019, 7:00 pm (SAST)
Time converter at worldtimebuddy.com
Presented and organised by our friends and partners in AECT (Design & Development Division) please join us for this important talk on designing with universal access in mind.
Description (by the webinar organisers):
As identified in a 2019 EDUCAUSE survey, accessibility and universal design for learning (UDL) ranked in the top 5 issues and opportunities for educators. However, Rieber and Estes (2017) noted a dearth of coverage related to people with disabilities in their review of all articles published in Educational Technology Research & Development (ETR&D) through 2013. While a growing body of research associated with universal design educational models to support accessibility has developed outside of the educational technology field, reviews of research suggest it's in a nascent stage with few empirically-based articles to support the effectiveness of theorized practices and frameworks to support learning outcomes resulting in a lack of consensus regarding the application of principles (Edyburn, 2010; Rao, Ok & Bryant, 2014; Roberts, Park, Brown & Cook, 2011).Given this gap, Rieber and Estes (2017, p. 16) argue, "Time has come to bring the best ideas from the instructional technology field to the design challenge of meeting all levels of accessibility." This webinar is a response to this call. Join us as we consider ways both researchers and designers can make an impact to address this opportunity. We'll explore the topic of Designing for All through the lens of universal design for learning and share resources to support more effective design practices.
This webinar has ended. Slides from this presentation can be accessed here