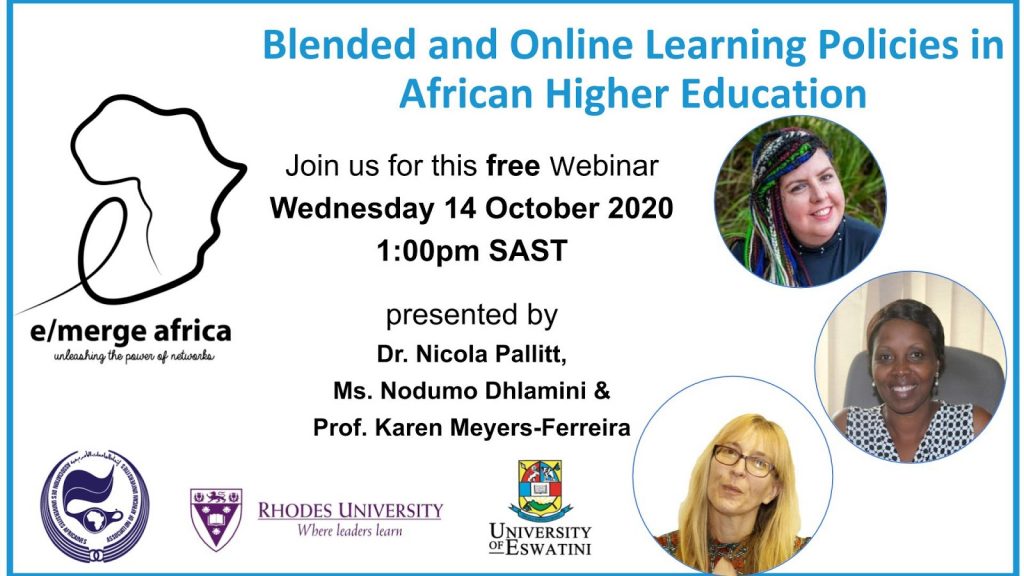 Time converter at worldtimebuddy.com
Description: Blended and online learning policies in African higher education is an important topic. It would be interesting to understand if African Universities are prioritizing the development, implementation and institutionalization of these policies. In this Two hours webinar, the presenters will contrast some blended and online learning policies from several Universities within and without Africa. The linkage and relationship with other policies within a university and the infrastructure required and other aspects to have a good blended and online learning policy. It will also be an opportunity to know how the Association of African Universities (AAU) supports or can support the development, implementation and institutionalization of these policies and what the future holds post COVID 19.
Our Presenters:
Prof. Karen Meyers-Ferreira: is the Coordinator Modern Languages/Linguistics of the Institute of Distance Education (University of Swaziland) since October 2010. She obtained various qualifications: MA Romance Philology (French-Spanish), Honours Portuguese, Post-Graduate Diploma Translation (French-English-French), MA Linguistics, LLM Degree (Legal aspects of new technologies), PhD in French (feminine Francophone autofiction). She has published a monograph on Francophone autofiction, several articles (autofictional feminine writing, crime fiction, 20th and 21st Francophone, Anglophone and Lusophone African authors, distance and e-learning), participates regularly in international conferences and is a keen translator and interpreter.
E-portfolio: http://karenferreirameyers.wix.com/midt-eportfolio-kfm
Online presence: https://www:researchgate.net/profile/Karen_Ferreira-Meyers
https://uniswa.academia.edu/KarenFerreiraMeyers
https://www.linkedin.com › karen-ferreira-meyers-638a5b79
Profile from University of Eswatini Staff page
Facebook page: https://www.facebook.com/karen.ferreirameyers
Ms. Nodumo Dhlamini: is a Zimbabwean national who lives and works in Ghana. She is employed as the Director of ICT Services and Knowledge Management at the Association of African Universities (AAU) Secretariat. Nodumo holds a Bachelor of Science (Mathematics & Computer Science) and a Master of Business Administration.
Twitter: @NodumoDhlamini
Facebook: https://www.facebook.com/dhlaminin
Dr. Nicola Palitt: Coordinates the efforts of the Educational Technology Unit in the Centre for Higher Education Research,Teaching and Learning (CHERTL) at Rhodes University and offers professional development opportunities for academics to use technologies effectively in their roles as educators and researchers. Dr. Pallitt provides learning design support and consultation in relation to teaching with technology (technology integration) and blended and online teaching and learning. She also supports lecturers to design appropriate technology-mediated learning experiences for their students. Nicola supervises postgraduate students and co-teach on formal courses in Higher Education. She enjoys meeting EdTech practitioners and researchers from across the globe.
Facebook: https://www.facebook.com/nicola.pallitt
Twitter: @nicolapallitt
To join this event please sign up below. Please note once signed up you will be taken to a separate Zoom sign up form. We kindly request you to sign up on both.
This event has ended – please look out for the recording on the e/merge Africa YouTube Channel