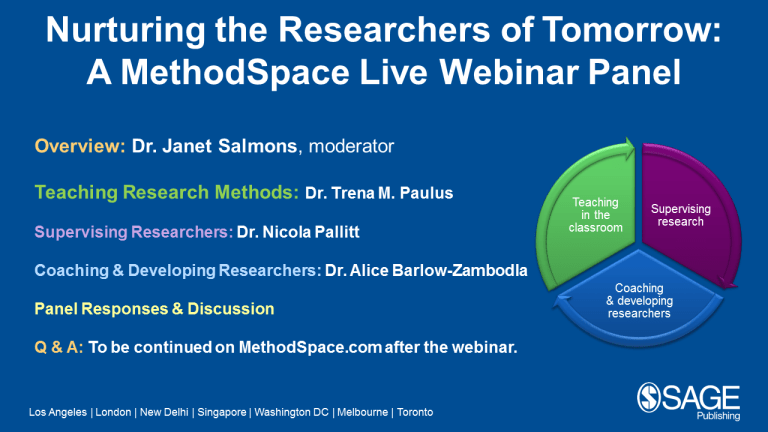 Session format: Webinar – organised by Dr. Janet Salmons with SAGE Publishing
Date and Time: Thursday 12 September, 5 pm SAST
Please join Dr. Janet Salmons' MethodSpace for this free panel discussion webinar on the future of research support. Dr. Salmons has generously invited the e/merge Africa team to contribute to the conversation and from our side Dr. Nicola Pallitt and Dr. Alice Barlow-Zambodla will be joining along with Dr. Trena Paulus of East Tennessee State University (US). For more information and to sign up please view this blog post
Time converter at worldtimebuddy.com
Description (by Dr. Janet Salmons):
At an excellent conference hosted by The Qualitative Report, I attended a session led by group of lively, creative, collaborative students. I needed to meet the instructor who was able to energize these students about learning research methods. That is how I became acquainted with Dr. Trena Paulus. I was delighted when she agreed to share some of her instructional genius in the Nurturing the Researchers of Tomorrow webinar.
Over the years I have collaborated with a fascinating organization based at the University of Cape Town, e/merge Africa. I've had the chance to present and participate in their online conferences, which include faculty members and doctoral students from across the continent and across the globe. I've been impressed with the quality and thoughtfulness of the presentations and workshops. I've also been impressed by professional development opportunities e/merge Africa offers on topics related to instruction, facilitation, and research. Through these activities I met Dr. Nicola Pallitt and Dr. Alice Barlow-Zambodla. I am thrilled to have both of them on our panel. Dr. Pallitt will share her insights into research supervision. Dr. Barlow-Zambodla will discuss her work to develop the skills of academic and professional social researchers, including her work in the environmental field.