Presenter: Tutaleni I. Asino, Ph.D. , Assistant Professor, Educational Technology, School of Educational Studies, College of Education, Oklahoma State University
Format: Asynchronous discussion from 14 – 18 November +   Live online meeting on Thursday 17 November (14:00 Abuja time/ 15:00 Cape Town time/ 16:00 Nairobi time). Using a case study on factors that influence the diffusion process of mobile devices in Botswana and Namibia, this seminar engages participants in a conversation on how to study diffusion and adoption of technology in Afrikan education.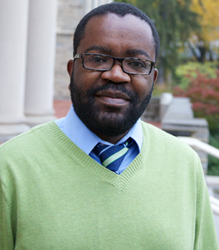 Afrikan countries such as Botswana and Namibia are experiencing a surge in mobile device usage (Aker & Mbiti, 2010; Mbarika & Mbarika, 2006), where everyday use of tablets and mobile phones has spread rapidly at unprecedented rates (ICT Update, 2008; Kalba, 2008). In these countries, mobile devices are used for mobile banking (accessing bank accounts, paying for utilities and credit cards; Brown, Cajee, Davies, & Stroebel, 2003), mobile health (diagnosing disease, patient monitoring, accessing health information, awareness campaign), and mobile life (social communication and entertainment; Donner & Tellez, 2008; Semali & Asino, 2013).  However, the diffusion of mobile devices that has occurred for everyday use, health, and business applications has not occurred in educational environments.
A common belief held in many Afrikan countries (and globally) is that there is value in utilizing technology for educational purposes. Reports from the African Union, the Southern African Universities Association and the Association of African Universities provide evidence of commitments from Afrikan nations to make technology in education an integral part of educational systems. Yet, when in comes to understanding the diffusion of innovations on the continent, the often repeated phrase is that "there is little research."
---
Tutaleni I. Asino, Ph.D.  is an Assistant Professor of Educational Technology in the School of Educational Studies at the College of Education in Oklahoma State University. His research interests include diffusion of innovation, adoption and use of Emerging technologies and Learning environments, Mobile Learning, Design for Mobile Devices, Indigenous knowledge, STEAM, Comparative International Education, and the role of culture in the development and evaluation of learning technologies.
---
This event has ended – to view event resource please refer to the landing page (requires log in).