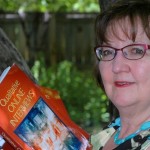 @janet_salmons
active 3 years, 11 months ago
My Profile
Title

Dr.

First Name

Janet

Last name

Salmons

Gender

Female

Home Language

English

Institution

Capella University and Vision2Lead, Inc.

Position or job title

Professor

Country

United States

Postal address

PO Box 943
Boulder, Colorado
80306

Email
Phone Number (office hours)

3034433075

Skype name

Dr_JES

Google Plus

Janet Salmons

Facebook

Janet Salmons

Twitter

einterview

About me

My areas of interest are online collaboration in both business and education, and online research methods that allow us to better understand how we interact in the virtual environment.

I have taught and developed online courses since 1999 as a graduate faculty member of the Capella University School of Business and Technology. I also serve as dissertation mentor for doctoral learners and as residential Colloquium faculty. I was honored with the Harold Abel Distinguished Faculty Award for 2011-2012. I am a researcher, writer and consultant through, Vision2Lead, Inc. at http://www.vision2lead.com.