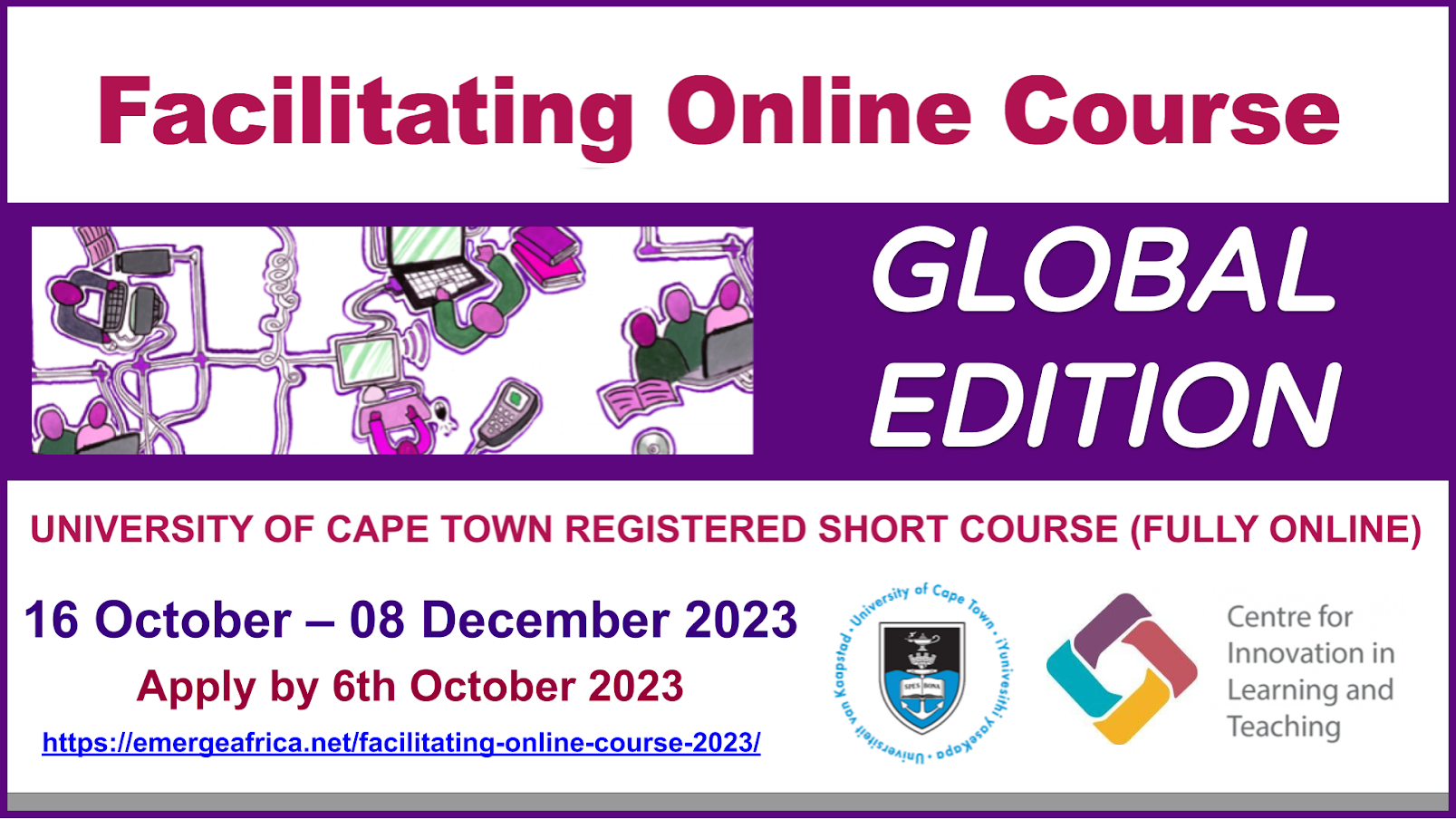 This year the Facilitating Online course ran three well attended course cohorts and we are now open for registration for our 2023 cohorts. The dates for all four 2023 cohorts are the following:
16 Oct – 08 December 2023 (Apply by 6th October 2023)
Please apply here
About the course
Facilitating Online provides a solid foundation for facilitating online events and courses. It is registered as a short course at the University of Cape Town (UCT). Facilitating Online was developed by the Centre for Innovation in Learning and Teaching (CILT) at UCT and is funded by the Carnegie Corporation of New York as part of its support for the e/merge Africa network. It is convened by Tony Carr and co-facilitated by facilitators from across Africa.
We consider applications in the order in which they arrive so earlier applications stand a higher chance of being accepted
Recommendations by participants
"I learned many facilitation skills that I am now able to apply with my own students. I would recommend the course highly to anyone embarking on the online teaching and learning journey."
Dr Judith McKenzie, Department of Health and Rehabilitation Sciences, University of Cape Town.
"This course doesn't just teach you ABOUT online Facilitation, it actually gets you to facilitate … It's a real opportunity to learn and develop. And what's more? It has an African taste…"
Daniel Adeboye, Online Maths Tutor, Tutor for the Future
Who should apply and why?
Educators and trainers are increasingly using online resources and interaction to support learning across blended and online courses. The shift online emphasises the importance of sound online facilitation skills to facilitate engaged participants in debate, group work and shared knowledge construction across a range of online conversational spaces.
Trained online facilitators are also able to make good choices about the use of online communication when designing learning activities. Facilitating Online provides opportunities for educational technologists, educators and trainers to develop the necessary orientation to become an effective online facilitator. Several past participants have reported that Facilitating Online unlocked new employment opportunities for them.
This course is aimed at change agent educational technologists and educators as well as trainers involved in leading online courses. Course participation is entirely online and will require up to 8 hours of participation per week. A certificate of completion is awarded for successful completion of 75% of the assessed activities of the course including some mandatory activities.
Our funding from the Carnegie Corporation of New York is focused on colleagues working in African Higher Education. We can offer up to two free places per state funded institution subject to admission requirements being met. For colleagues from other sectors and continents please refer to our fee information here.
Selection criteria and process
Selection criteria include:
* reliable Internet access
* an opportunity to teach or facilitate in a blended or online course or training programme
* previous experience of online teaching or learning
* at least two years' experience as a university educator, educational technologist or trainer

All applicants will require a letter of support from their line manager or Head of Department.
Applicants will be notified via email about whether they have been selected to participate in the course. You can address any other queries to [email protected]
For interest: